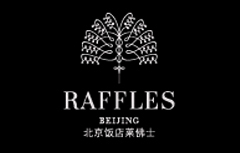 CONTACT
Raffles Beijing
33 East Chang An Avenue
Beijing
100004
China
Tel: +8610 6526 3388
Fax: +8610 8500 4380
ABOUT
An enduring symbol of Beijing, Raffles is the essence of this extraordinary city: refined, beautiful, beguiling. The iconic Beijing experience, located beside the Forbidden City, Raffles is the epitome of the best of Beijing's past, combining with all the excitement and sophistication of contemporary China.
LIFESTYLE
With classical French Oriental architecture and old world charm, Raffles Beijing epitomises elegance and exclusivity. Wooden floors have been lovingly restored and sparkling chandeliers grace our high ceilings. Guest rooms – among the most luxurious and spacious in Beijing – feature marble bathrooms and Oriental rugs. While Personality Suites pay homage to the life and work of a number of the famous characters who have stayed here, the Raffles Inc. Business Rooms are perfect for business travellers. No two rooms in the historic building are the same, and with 171 beautifully designed guest rooms and suites in the hotel, guests have a real choice of accommodation to suit them.
Click here to view The Raffles Story Video.
E-TRAVEL CONCIERGE (ETC)
---
How can E-Travel Concierge (ETC) be of service to you?